Starkville

Starkville is an anchor of the Golden Triangle region of northeast Mississippi which consists of Starkville, Columbus, and West Point. The Starkville community offers a unique blend of old Southern charm and 21st century technology. The growing economy is supported by a strong base of manufacturing and small businesses, as well as state-of-the-art research and technology companies. Starkville's assorted citizenry of 26,000 boasts not only native southerners, but "new southerners" from across the nation, university students, and a diverse international population. As a Mississippi Certified Retirement Community, Starkville also attracts many retirees searching for a balance of small town security and big city opportunity.

Starkvegas
Years ago, other SEC rivals, Sportscasters, and even the general Media, most of which hadn't physically ever been to Starkville, made fun of it, since it was a quiet southern town by referring to it as Starkvegas. Instead of being offended, the local residents and sports teams at MSU embraced the name and used it. Several times it was used when the nationally recognized baseball program at MSU made its regular trek to Omaha for the College World Series (you haven't been to a college baseball game until you've been to the Left Field Lounge). However, in 2014, the name made national news when the Football Team became the first Division I Football Team in America to be named #1 by the NCAA Football Playoff Committee (remember that for future trivia game questions) and some innovative MSU Alumni (remember we're an engineering school) put the name on a hotel in Las Vegas using the room lights to make up the name. So, for you Rivals that started it--the joke is on you!!

Mississippi State University

A college town for more than a century, Starkville is surrounded by the energy and enthusiasm the university brings. Boasting an enrollment of more than 22,000 students, 700 faculty members, and an alumni family of over 82,000, Mississippi State University is the largest university in the state. MSU serves up exciting S.E.C. sports action with their championship football, basketball and baseball teams. In fact, MSU was the first team named #1 in the NCAA Division I Football Playoff System. The university is also a national leader in veterinary medicine, agricultural research and engineering. Since its establishment in 1878, this comprehensive land-grant institution has emerged as one of the region's and the nation's premier research and service universities without wavering from its priorities. Fully accredited, Mississippi State University has matured into a highly respected institution of higher learning and is on the threshold of entering the 21st century as one of the educational leaders of the Southeast. Students, like the general area population are smart and hardworking, but grounded and laid back and can be found not only studying or performing research, but active in volunteer projects around town and the world; or at Davis Wade Stadium, The Hump, or in nationally known Left Field Lounge at the baseball stadium partaking of BBQ and "Baseball Water" .

111 South Lafayette Street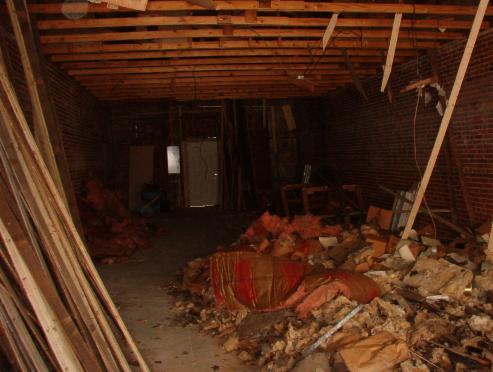 Thomas H Walker Consultants historically renovated 111 South Lafayette Street in the National Historic District in Downtown Starkville. Working with Cindy Walker, Steve Langston of Sullivan's Office Supply, Kathryn Hewlett, Craddock Construction and a handwritten design on an 8 ½" piece of lined paper, the preservation project stripped out the non-historic offices, dropped ceilings, and laminate tile to reveal 13-foot ceilings and original non-plastered brick walls while installing a state of the art voice and data communication system, energy efficient LED lighting, and a high efficiency HVAC system. The renovation work was rewarded with the 2010 Award of Excellence in Historic Preservation for Commercial Rehabilitation from the Starkville Central Neighborhood Foundation. In 2016 Tom sold his building and moved his office to his home on a lake in Starkville. From this location Tom can get to the Golden Triangle Regional Airport within 15 minutes to travel anywhere in the world (with a change in Atlanta of course).

A Personal Invitation

Come visit and see what Mississippi is really like and why we chose to move here when plenty of other options were available! There are usually plenty of refreshments in the refrigerator and lots of friendly southern folk to talk to… Many friends and business clients have taken this opportunity and none have been sorry they took the time and effort to visit and take in a MSU sporting event, hunt, or just sit by the lake and drink sweet tea..